New Holland Agriculture showcases technologically-advanced range of tractors at Krishi Darshan Expo in Hisar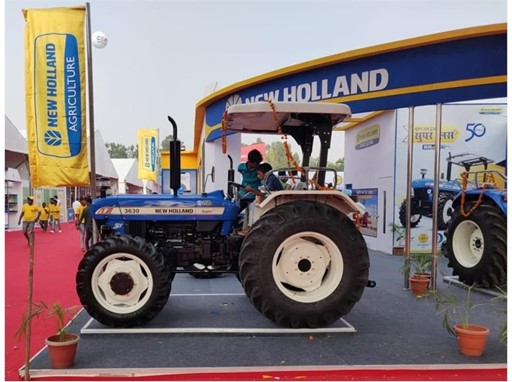 The brand launched its new series of 3630 TX Super Plus+ and 3600-2 All Rounder Plus+ tractors, along with its advanced telematics solutions – New Holland SKY WATCH, for complete tracking of customer machines.

New Holland Agriculture, one of the world's leading agriculture equipment brands, displayed a selection of its extensive range of farm mechanization solutions from tillage, sowing and post-harvesting at the 9th Edition of the Krishi Darshan Expo, Hisar, Haryana. The show was held during October 12 -14, 2019, at the Northern Region Farm Machinery Training and Testing Institute (NRFMTTI) in Hisar.
New Holland products on display at the event included the new tractor models 3630 TX Super Plus+ 4WD and 3600-2 All Rounder Plus+ 4WD, along with the advanced telematics solution SKY WATCH™. The newly launched models attracted hordes of visitors at New Holland 200 sq. M stall at the exhibition.
The New Holland 3630 TX Super Plus+ is the upgraded version of the renowned 3630 Super tractor. It comes with an Inline FPT Industrial engine offering over 50 HP in power, which is the highest in its category. The tractor is equipped with several features such as '12+3 high-speed gearbox, Sensomatic24 hydraulics offering 2,000 Kg lifting capacity, the highest road speed and reverse PTO with independent PTO clutch lever, among the others.
The New Holland 3600-2 All Rounder Plus+, a well-known name amongst New Holland farmers, is now available in four-wheel drive to offer the unmatched combination of power, mileage and comfort.
The New Holland SKY WATCH is an advanced telematics solution which enables to track and trace the tractor anywhere, anytime. With CNHI Teleconnect app and SMS services, users can experience progressive features which enable tractor tracking and tracing anywhere and at any time.
"New Holland SKY WATCH is an advanced telematics solution developed and tested in India to offer seamless connected tractor experience to its owners. Customers can experience its progressive features like proactive and emergency alerts, vehicle tracking, driving behavior analysis, tractor assistance, driving analytics report and many others", said Mr. Kumar Bimal, Director-Sales at New Holland Agriculture India.
The brand also displayed its range of crop solutions including a rake, a square baler, a combine harvester and a pneumatic planter. These products are the epitome of power, class and modern technology, offering the best crop management solutions for New Holland customers.
Krishi Darshan Expo is one of the biggest exhibitions for agriculture and forestry and attracts thousands of farmers every year from Haryana and neighboring states such as Rajasthan, Uttar Pradesh, Punjab and Himachal Pradesh.
New Holland Agriculture has been contributing to the growth of mechanized farming all over India with its advanced agricultural machinery and thereby enhancing farming efficiency, productivity and farmers' prosperity.
To support farmers, New Holland Agriculture has established a dedicated customer helpline with the toll-free number 1800-419-0124. This helpline is available in Hindi, English, and eight other Indian regional languages.
Haryana, Hisar, October 22, 2019
CONTACTS
Francesca Mazza

Brands Press Relations, AMEA and South East Asia

United Kingdom

francesca.mazza@cnhind.com

+44 7841 568487