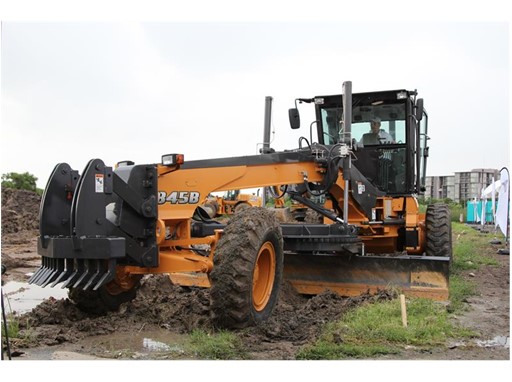 CASE Graders are the best available machinery in their class and are engineered to give a very long product life.
The main features of CASE 845B ideal for road construction & CASE 865B ideal for mining application are
Maximum productivity: Unique 'Multiradius moldboard design' that provides mixing effect that does not only push the material on ground but also rolls it. 845B along with dual HP-150HP / 173HP and 865B with triple HP- 193HP /205 HP / 220 HP gives a unique mix of power and fuel efficiency
Advanced engine and hydraulics: To increase the machine's durability, CASE focuses on the use of quality engines along with regular maintenance across their equipment which helps deliver excellent fuel efficiency. Consistency of controls and response of hydraulic operations, as the ability to make small and precise adjustments in the blade position has a significant impact on profitability for the job.
Optimise fuel efficiency: CASE 845 B and CASE 865 B graders are equipped with 6.7-liter FPT engine with dual horsepower and triple horsepower respectively to match the power requirements of various applications and deliver optimum fuel efficiency. The Graders are offered with an Automatic ZF Transmission. The machines have a multi Curvature Mouldboard which reduces the resistance coming on the Engine and hence reduces the fuel consumption.
Operator Comfort: CASE's Motor Graders are equipped with closed air conditioning ROPS cabins whereas most of CASE's competitors are providing open canopy. Air suspension seat further adds to the operator comfort. The operator can also customise all the working parameters of the machine to achieve excellent controllability and faster cycle times. The automated functions in the cab, which includes an electrohydraulic joystick to customize the reversing and steering sensitivity, makes the drivers' job easy, allowing them to achieve shorter cycle times and boost their productivity
Structural stability and ease of maintenance: CASE 845 B and CASE 865 B focuses on providing easy engine compartment access along with daily service checkpoints for quick and efficient maintenance of equipment.
Remote diagnosis and monitoring technology: Equipment are installed with a unique trip meter on the operator dashboard that continuously monitors the fuel consumption, hours operated and operating temperatures. Electronic indicators are also connected to the dashboard for safety related or operation related parameters.

CONTACTS
Rachit Mishra

Construction Equipment Brand Marketing & Communications – AMEA

India

+911246659126
MORE FROM CASE CONSTRUCTION EQUIPMENT