Case IH extends its JXT Tractor family with new models in Bangladesh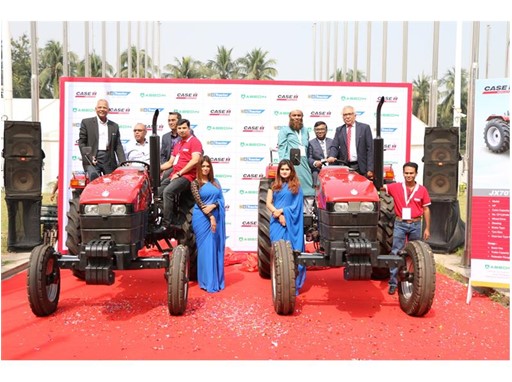 The two new all-purpose tractors in their 50 hp and 70 hp versions make their debut at the Agro Bangladesh 2018.
Case IH, a brand of CNH Industrial, unveiled the new JXT50 and JXT70 all-purpose tractors to the Bangladeshi market, extending its JXT tractor family, which now includes five models: the existing 55 hp, 45 hp and 39 hp JXT tractors, plus the two new ones with 50 hp and 70 hp.
The launch event was held at the International Convention City Bashundhara, during the Agro Bangladesh 2018, which took place in Dhaka, on 25-27 October.
Case IH's all-purpose JXT Series tractors are offered by Abedin Equipment Limited, part of QA Group and Case IH authorised distributor in Bangladesh since 2013, which supports farmers through its network of 12 branches across the country.
Ashok Anantharaman, Director Marketing & Sales at CNH Industrial, stated: "Case IH continuously renews and extends its product offering to meet the growing needs of farmers around the world. With our range of reliable, high performance equipment we are able to contribute to the fast-developing mechanisation of Bangladesh's agriculture, which is one of the main drivers for the country's growth and economy. The JXT tractors have earned a well-deserved reputation among farmers who look for highly versatile machines that provide an affordable transition to mechanised production methods. The new JXT50 and JXT70 are true workhorses that can handle with ease a variety of implements, bringing Bangladeshi farmers a big performance with exceptionally low operating costs."
The Case IH JXT Series tractors are perfect all-rounders for small farms, and are also robust enough to be used as utility tractors in any farming business. Blessed with outstanding power, speed, lift capacity and pulling strength, these tractors far exceed expectations while maintaining high fuel efficiency. Simple, reliable and cost-effective, these are machines that will always deliver a high return on farmers' investment, no matter what they ask of them. The new JXT50 and JXT70 tractors are available in Bangladesh in 2WD or 4WD configuration, and all feature a ROPS (Roll Over Protection System) to protect equipment operators in the event of a vehicle overturn or rollover.
Dhaka, Bangladesh, 26th October 2018
CONTACTS
Francesca Mazza

Brands Press Relations, AMEA and South East Asia

United Kingdom

francesca.mazza@cnhind.com

+44 7841 568487