TürkTraktör begins local production of construction equipment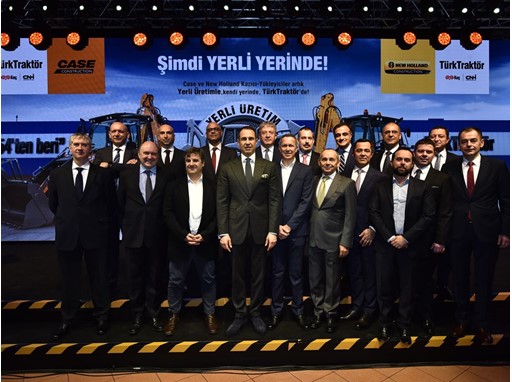 TürkTraktör has entered a new manufacturing phase, introducing construction equipment to its production operations. This extends its activities in the construction equipment sector, in which it has been the Turkish distributor for CNH Industrial brands CASE and New Holland Construction Equipment, since 2013.
Now in 2020, TürkTraktör will begin to locally produce CASE and New Holland backhoe loaders for the Turkish market.
With the start of 2020, TürkTraktör, the joint venture between the Koç Group and CNH Industrial, and leading Turkish manufacturer of agricultural equipment, announces that it will begin local production of construction equipment. TürkTraktör first began investing in the domestic distribution of construction equipment in 2013 and will now directly manufacture CASE and New Holland backhoe loaders in Turkey thanks to an additional investment at its plant in Ankara.
A launch event was held today in Istanbul at the Rahmi M. Koç Museum to mark the beginning of this new endeavor. The event was hosted by Aykut Özüner, CEO of TürkTraktör who welcomed Cenk Çimen, President, Koç Holding Automotive Group, and Stefano Pampalone, President Construction and General Manager Asia, Middle East and Africa at CNH Industrial.
Boğaç Ertekin, Director of Construction Equipment Group at TürkTraktör, gave the opening remarks, which were followed by an unveiling of the construction equipment which will be made in Turkey.
TürkTraktör's CEO Aykut Özüner, stated his delight with this new investment to start off 2020: "Our company, through its partnership with CNH Industrial, has become the pioneer and long-time leader in the Turkish tractor market for the last 13 years. We first extended our partnership with CNH Industrial in the construction equipment sector six years ago, adding Turkish distributorship of CASE and New Holland Construction equipment to our operations. After entering this sector, we have continued to invest year over year, enjoying continued growth in this sector with our new construction equipment facilities, our strong dealer network and our experienced teams. By beginning local production, we are writing the next chapter in our construction story."
Özüner stated that they are making an investment that is important both for the construction equipment sector and the manufacturing industry. "Trusting in the future of the construction equipment sector, we are taking another important step in 2020. By making an additional investment in our Ankara plant, we will now be manufacturing CASE and New Holland backhoe loaders on a state-of-the-art production line at TürkTraktör and offering the sector, machines designed for Turkey," said Özüner.
Aykut Özüner underlined that they will be the first company to use the AGV (Automatic Guided Vehicle) system for backhoe loader production in Turkey and will be producing different versions of backhoe loaders under the two CNH Industrial brands as a part of a local production effort.
"As is the case in the tractor market, which we have been pioneering for years, we aim to shape the construction equipment sector as well with this new effort and become a preferred brand, benefiting from the cost and efficiency advantages of this investment. We will continue to pursue excellence at every level throughout our production operations, export and service."
Koç Automotive Group President Cenk Çimen made a speech during the event, stating that the Company will continue to prove their importance and strength in the Turkish market and the global market with the value-adding products brought forth by their continuous investments: "TürkTraktör is the oldest manufacturer of the automotive industry that is still active in Turkey. It is also the biggest producer and exporter of the tractor market. The agricultural sector has a strategic importance in our economy with its share in the national economy and its contribution to employment. The tractor market in Turkey, is currently the 3rd biggest market in Europe. In this big and important market, we are proud to be the company that has been shaping the sector since the first day, with our 65 years of history and uninterrupted leadership that we have carried to the 13th year, this year. We hold 45% share of the tractor market in Turkey. Besides to our leadership in the market, we have also realized the 90% of Turkey's tractor exportation. Together with our long-standing business partner, CNH Industrial, we export our tractors to more than 130 countries, especially to America and Europe."
By getting strength from our successful performance both in local and global markets, that enables us to look even more hopefully for future, we decided to expand our business in 2013. And by taking the great potential of the market into consideration, we entered the construction equipment field. With its market size, Turkey's construction equipment industry is the 7th in Europe and 11th in the world. We are proud that we will start producing, the backhoe-loaders, which are around 30% of the market and among the most demanded products, at our Ankara factory, with Case and New Holland brands. Thus, TürkTraktör will now serve the country's economy with its high value-added local products in construction equipment field. We will continue to contribute to the manufacturing industry, the automotive industry and, more importantly, to the economy of our country, with all our Group companies within the Koç Holding Automotive Group."
Stefano Pampalone, President Construction and General Manager Asia, Middle East and Africa, CNH Industrial stated: "The products from our brands that are locally produced in Turkey have proven their quality all over the world. The newly-established backhoe loader production line will further benefit the local needs of the Turkish market. This latest investment once again demonstrates our confidence in Turkey and TürkTraktör's production capabilities."
CONTACTS
Nan Nie

Corporate Communications Manager AMEA

China

+86 21 2082 2318

+86 137 6145 3061

Alessia Domanico

Corporate Communications AMEA

Italy

alessia.domanico@cnhind.com

+39 011 007 4002

+39 331 694 6984
MORE FROM CNH INDUSTRIAL CORPORATE