History shows Case IH solid tracks of innovation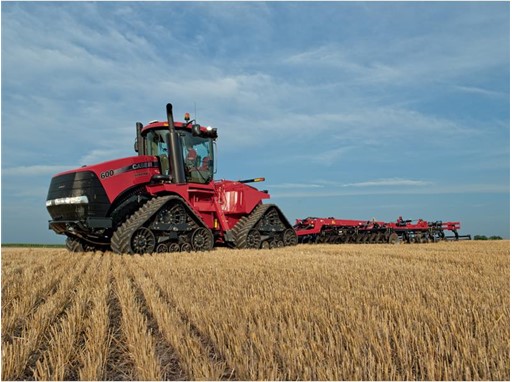 Case IH led global development of track technology back in the early 1990s, releasing the first tracked tractor nearly 20 years ago.

With harvest over for another year and farmers and contractors starting to plan their machinery investments for 2016, Bruce Healy, Case IH Brand Leader – Australia, said equipment featuring track technology, including a combination of tracks and tyres, is becoming increasingly popular.

"Case IH developed the idea of using tracks as a way of putting more power to the ground and eliminating power hop, improving traction and leaving no berms.

"Uptake has been strong, as producers worldwide with soil conditions needing better flotation have taken advantage of the many benefits."

Bruce said as well as very effectively protecting the soil, track technology gives the operator improved control of the tractor or combine.

"When we developed track technology on tractors, we set the benchmark—which the rest of the industry continues to chase—but we haven't sat still; we're continually evolving the technology. And of course, we've set the performance bar even higher for our 2016 models.

"Case IH has continued to improve the technology, with specific drivelines and an exclusive undercarriage system to handle the power and torque of tracks.

"The improvements we've made have come from us having the knowledge of developing track technology on tractors in the first place.

"Additionally, the Case IH dealer network is extremely experienced in servicing tracked machines, having done it for nearly two decades. People should never underestimate the value of having dealer service staff who can ensure machines are running to their full potential whenever they are needed.

"It's that expertise that gives our customers peace of mind when they invest in a Case IH tracked tractor or combine."

From that first 9370 Steiger Quadtrac, track technology is now incorporated across numerous Case IH tractor and combine models, including Steiger Quadtrac, Steiger Rowtrac, Axial-Flow combines and the Magnum Rowtrac family that Case IH launched earlier in 2015.

Bruce said over the years, Case IH has developed track technology to suit a variety of farming enterprises in Australia—from sugarcane growers in far north Queensland, to wheat farmers spanning Victoria's Mallee and throughout Western Australia, through to cotton producers in New South Wales.

Steiger Quadtrac and Rowtrac models have a four-track system—with four individually driven, oscillating tracks—ensuring maximum manoeuvrability while increasing traction and reducing compaction and soil disturbance. The track-wheel combination in Magnum Rowtrac models gives farmers row-crop flexibility.
For more information, and to find the best tractor for your farming business, talk to your local Case IH dealer or visit
www.caseih.com
.

08/02/16
CONTACTS
Francesca Mazza

Brands Press Relations, AMEA and South East Asia

United Kingdom

francesca.mazza@cnhind.com

+44 7841 568487