New Holland Agriculture's North & West Africa Training Camp held in Morocco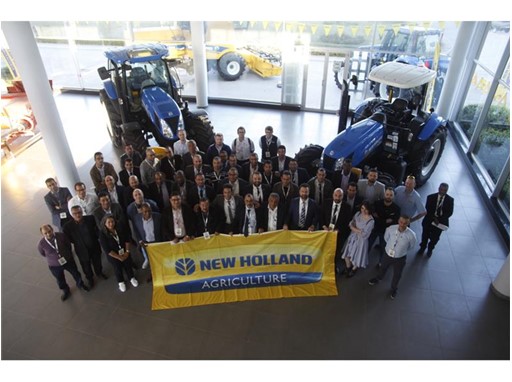 New Holland Agriculture organized a Commercial Training Camp for around 50 participants from North & West Africa markets in Marrakesh.
The training camp was held at the premises of New Holland Agriculture's local distributor, S.O.M.M.A., part of Auto Hall Group, in Marrakesh from the 20th to the 22nd of March 2019, in two sessions focused on New Holland Agriculture's high horsepower tractors and combine harvesters. During the training camp, New Holland Agriculture has showcased its new TC5.30 combine harvester, developed and produced at its India manufacturing plant, for the first time in Morocco to generate new business opportunities.
The first session of the training camp started with New Holland's large-scale farming seminar for key accounts across the region. The New Holland Field Squad of brand, product, after sales and parts representatives presented the brand's farming solutions that cover the complete agricultural cycle from land preparation, planting, seeding, crop preparation to harvesting. The seminar was completed with a walk-around of T6050, T6090, T8.410 tractor models, TC5.30 combine harvester and other equipment that have been displayed during the training camp.
In the second session, the salesmen from Morocco, Tunisia, Ivory Coast and Senegal underwent self-improvement training about innovation and continued the training camp with the theoretical courses in the classroom and a walk-around of the key products. The aim of this training camp was to increase the product knowledge of the salesmen and to underline how New Holland Agriculture products can benefit their farming operations with higher productivity and performance.
Yasin Şeker, North & West Africa Business Manager at New Holland Agriculture, who participated in the training sessions said: "This year, we held our Training Camp here in Marrakesh and we are very happy with the result we achieved. It was a valuable opportunity and this has been possible with the support of our local distributor in Morocco, S.O.M.M.A. This type of training program is extremely important, as it enables us to be close to our customers with a strong and professional network, to help them get their job done efficiently and profitably."
Marrakesh, 26th March 2019

CONTACTS
Sevgin Duman

Marketing Communications, Middle East & Africa

Turkey

+90212 346 0202

+90530 1596526

Francesca Mazza

Brands Press Relations, AMEA and South East Asia

United Kingdom

francesca.mazza@cnhind.com

+44 7841 568487
MORE FROM NEW HOLLAND AGRICULTURE