New Holland launches new Precision Land Management cost savings calculator app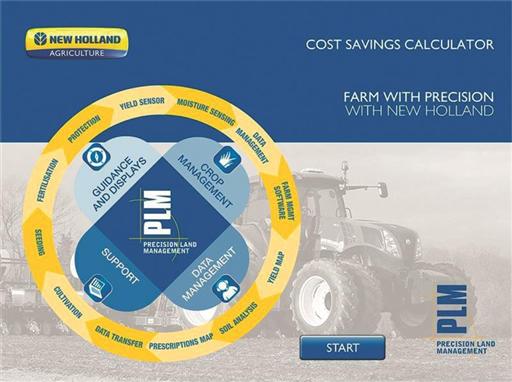 Select your application and see how much you could save

PLM® information station
Optimised for mobile devices
In the highly competitive world of modern agriculture, farmers and contractors need to carefully control all input costs to maximise profitability and productivity. Following customer consultation, New Holland has developed the Precision Land Management cost savings calculator app. This enables users to calculate the potential cost savings different Precision Land Management (PLM®) solutions could bring. In addition, the Return on Investment is easily calculated using the intuitive app.
"We wanted farmers to be able to quantify just how much they could save, both in terms of inputs and labour when using advanced PLM® technology." Stated Luca Mainardi, Head of Tractor and PLM® Product Management. "Furthermore, as virtually all working parameters can be inserted, users gain highly accurate cost savings results."
Select your application and see how much you could save
Users select the desired operation from the home screen, and they can choose between tillage, row crop planting and fertilising, seeding and fertilising, spraying, NH3 (ammonia) application and harvesting. Once selected, a range of relevant parameters such as working speed, field area, labour, input and fuel costs and the power and the working width of the machine are entered. The PLM® correction signal is then selected and once the 'calculate' button is pressed, the potential cost savings will be displayed. Both a headline, overall cost saving is shown together with a breakdown for individual elements such as savings in inputs and labour. There is the option to produce an email report for future reference.
A dedicated return on investment page quantifies just how long it will take for the initial investment to be recouped
The app has been developed using calculations developed by Kansas State University.
PLM® information station
Users who wish to find out more about different aspects of PLM® can browse the information sections, accessible directly from the home screen. They select from PLM® guidance, PLM® crop management technologies, PLM® data management solutions and PLM® support to find out the latest information on New Holland's extensive PLM® offering.
Optimised for mobile devices
This app has been optimised for mobile devices, both smartphones and tablets, across all platforms. The intuitive touchscreen functionality provides on-the-go consultation. The large buttons facilitate easy selection of all parameters and a handy number pad pops up to ensure the precise input of exact figures. The calculator is currently available in English (both North American and European versions), German and Brazilian Portuguese. Further language versions will be subsequently released.
​12 November 2013

CONTACTS
Caterina Cattaneo

New Holland Agriculture Brand Communications manager

Italy

caterina.cattaneo@newholland.com

+39 0110 086 158