STEYR ISOBUS Class III: Next level data exchange between tractor and implement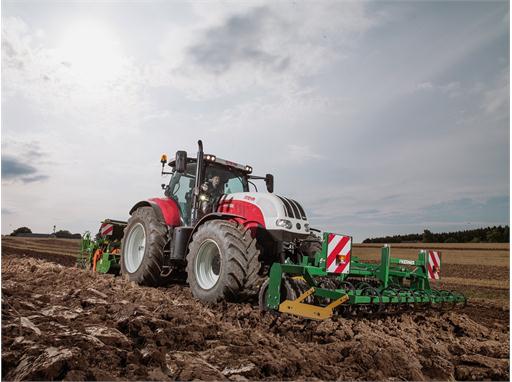 The ISOBUS Class III system that is available for Steyr CVT models with immediate effect means a new level of quality for the data exchange between tractor and implement – with the implement effectively controlling tractor functions. Other than ISOBUS Class I and II systems, the tractor's electronic control unit (ECU) does not only provide tractor-related information to the electronic control unit of the implement but also receives and performs tasks provided by the ECU of the implement. "This exchange of operational and control data markedly increases productivity and cost-effectiveness of tractor-implement combinations", explains Klaus Steinmayr from Commercial Training in St. Valentin.
Rapidly accepted standards
Whilst ISOBUS Class III features are not yet commonly available in the industry at present, thus putting Steyr in the technological lead once again, experiences with ISOBUS Class I and II have shown that such innovations are quickly taken up by a broad range of manufacturers and brands. "With our ISOBUS Class III, rear linkage, PTO, remote control valves and driveline can receive and perform tasks required by implement and situation", explains Steinmayr.
This high degree of automation can relieve the operator in many standard situations. During the harvest of hay or straw for example, balers can control the forward speed of the tractor. Whenever a bale is ready, the baler will stop the tractor to release the bale. With large balers, components such as pick-up, knotter systems, rotor and feed rates are continuously monitored, and the tractor speed is adjusted for optimum performance of the baler.
St. Valentin/Hannover, 09.09.2015