TürkTraktör Awarded First Prize in Automotive R&D Centres by Turkey's Ministry of Science, Industry and Technology
SUBSCRIBE TO RSS FEED
XML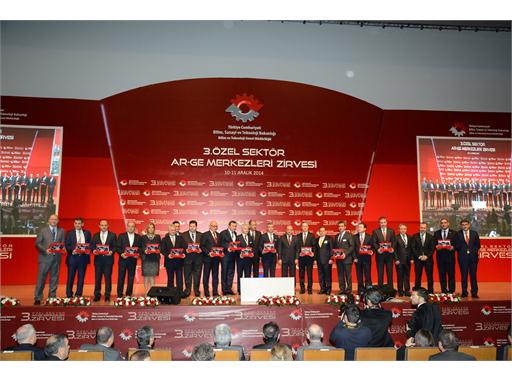 The joint venture between CNH Industrial and Koç Holding won the first prize in the Automotive category at the Third Private Sector R and D Centres Summit organised by Turkey's Ministry of Science, Industry and Technology, ranking first out of nine R and D centres.
TürkTraktör, the joint venture between CNH Industrial and Koç Holding, received the first place award in the Automotive category at the Third Private Sector R and D Centres Summit. The ceremony was held in the Turkish capital of Ankara on December 10, 2014, in the presence of the Minister of Science, Industry and Technology. TürkTraktör was awarded the first prize on the basis of its performance according to "project capacity and quality", "cooperation and interaction", "intellectual property competency", "human resources" and "budget" criteria.

At the ceremony, TürkTraktör General Manager and CNH Industrial Turkey and Caucasus Head Marco Votta thanked the 117-member R and D team and stated that the prize is a big source of pride and motivation for all: "We feel proud to be developing our local tractor range with our local engineers. We design and assemble the transmissions, engines, cabs and hydraulic units of our tractors here in Turkey. This is the key to our success and the popularity of our products among farmers." The R and D centre is associated with the joint venture's Ankara manufacturing plant that produces tractors ranging from 48 to 110 hp for the company's Case IH and New Holland Agriculture brand. In 2013, it exported 35% of its production to markets around the world. For the past seven consecutive years one out of two tractors sold in Turkey have been manufactured at this facility.
TürkTraktör's R and D Centre is fully accredited by CNH Industrial and operates as part of its global R and D network. It is also the first centre in the agricultural equipment sector to be accredited by the Turkish Government. The centre conducts product development and research projects, also working in collaboration with universities, which lead to numerous patent applications every year. "The patent activities we launched in 2006 have resulted in a portfolio including 103 patents, 8 industrial designs, 29 brands and 27 Internet domain names. We not only receive patents for our products but also for the equipment we develop in order to facilitate our job on the production line," further commented Marco Votta.
Note to the Editor: About TürkTraktör - Founded in 1954 as the first automotive manufacturer in Turkey, TürkTraktör is the market leader in Turkey and has exported to over 130 countries around the world. Its production has grown from 815 units in 1955 to 40,000 in 2013. Its manufacturing and R and D facilities in Ankara employ over 3000 people. TürkTraktör opened a second manufacturing plant in Erenler that started production in June 2014.
Ankara, December 15, 2014

CONTACTS
Laura Overall

Corporate Communications Manager

United Kingdom

+44 (0)207 7660 338

+44 (0)7725 632 959

Sally Nicolls

Corporate Communications

United Kingdom

+44 (0)207 7660 340

Alessia Domanico

Corporate Communications

United Kingdom

alessia.domanico@cnhindustrial.com

+44 (0)207 766 0326

+44 (0)77 2563 2956