New Holland Agriculture Unveils DuraCracker™ Crop Processor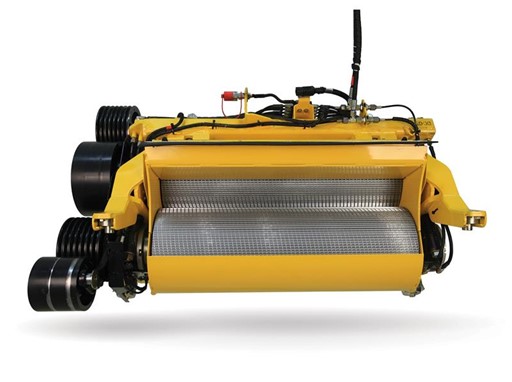 New Holland Agriculture's all-new DuraCracker™ crop processors deliver high-level processing scores and reliability to ensure productivity all season long. The new DuraCracker is designed with the widest rolls in the industry for top-notch processing even at high crop throughputs.

"Weighing 40% more than the standard crop processor, the new DuraCracker's 7-Rib Belt drive handles higher loads of processing crop at longer lengths of cut," said Tony Resh, Specialty Business Manager for New Holland North America. "These heavy-duty processors are engineered to be more durable and more reliable to maximize uptime and we now offer the choice of conventional or spiral cut rolls, so operators can determine which is the best solution for their needs."

Features include:
Heavier tie bolts, springs for 50% more clamping force on the rolls, and a cam system for roll gap adjustment that includes cylinders on both sides for positive spacing.
Designed for durability and reliability at higher loads and higher horsepower, the new processor weighs up to 40% more than previous processors, due to new frames with heavier tubing, larger shafts, bearings, and more.
Improved serviceability and less cleaning time.
Improved shredding of cornstalks and cobs.
Smaller roll end to frame gaps to reduce passage of small kernels.
New belt tensioner mechanism and spring.
The heavy-duty crop processor is available in three configurations, including 100/130 straight saw teeth, 110/138 saw teeth with a spiral groove, or complete crop processor without rolls to allow installation of aftermarket rolls for customers with special requirements. The DuraCracker comes standard on model year 2018 FR850s, and it is optional on the FR650 and FR780.

Fueling Innovation exemplifies the entrepreneurial spirit of finding alternative fuel sources, but it also follows our legacy of over 120 years of creating innovative and practical products for agriculture. From our Precision Land Management strategies, such as the NHDRIVE autonomous vehicle concept and our dedication to being the Clean Energy Leader, New Holland is committed to finding new and better ways to make innovative equipment accessible and more productive.

New Holland, Pa. (August 29, 2017)
CONTACTS
Bethany Ciampa

PR & Content Team (New Holland)

United States

mediarequests@newholland.com

617-226-9950

617-226-9950