New Holland Agriculture Unveils Three New RF Series Fixed Chamber Round Balers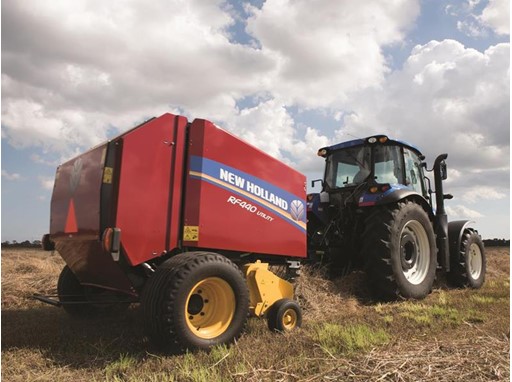 The proven leader of haytools, New Holland Agriculture expands its product offering by introducing three new RF Series Fixed Chamber Round Balers - RF440 Utility, RF450 Utility and RF450 SuperFeed™ models. Designed for simplicity and ease of use, the RF Series balers are reliable, durable and affordable to own. These new models will provide an entry point for part-time famers who can take advantage of existing tractors with as low as 40 PTO horsepower and are the perfect solution for operators who want to bale on their own schedule.

"Ideal for owner operators and rural lifestyles who want simple, reliable equipment to get the job done, the new RF Series models are an alternative to a more premium variable-chamber silage machine," said Daniel Valen, Director of Product Marketing for New Holland North America. "They are also well-suited for operators who desire the flexibility to bale at crop moisture up to 80 percent. From the wide, hungry pickup to the simple but proven bale eject system, each model is packed with features that allow farmers to create quality bales in a wide range of conditions at a much lower price point than variable-chamber balers."

The RF Utility models, RF440 and RF450, provide excellent performance at a budget price, producing 4x4 and 4x5 bales respectively. The RF440 Utility chamber uses one floor roll, while the RF450 Utility uses two floor rolls, and both models feature a chain and slat system to form the bale.

Created to handle tough baling conditions, the all-new RF450 SuperFeed model differentiates from its utility counterparts to include a 4x5 bale chamber design with seven rolls and a 29-slat chain with the diameter increased to five feet. The RF450 SuperFeed models are designed to produce a more dense, heavy bale including silage bales with moisture up to 80 percent.
For more information on the features and capabilities of the new RF Series Fixed Chamber Round Balers, visit
www.newholland.com
​​ or contact your local New Holland dealer.

Fueling Innovation This exemplifies the entrepreneurial spirit of finding alternative fuel sources, but it also our legacy of over 120 years of creating innovative and practical products for agriculture. From our Precision Land Management strategies, such as the NHDrive Autonomous Vehicle concept and our dedication to being the Clean Energy Leader, New Holland is committed to finding new and better ways to make innovative equipment accessible and more productive.

New Holland, Pa. (August 29, 2017)
CONTACTS
Bethany Ciampa

PR & Content Team (New Holland)

United States

mediarequests@newholland.com

617-226-9950

617-226-9950
MORE FROM NEW HOLLAND AGRICULTURE