New Case IH PUMA series – Stage IV for demanding arable, livestock and contracting operations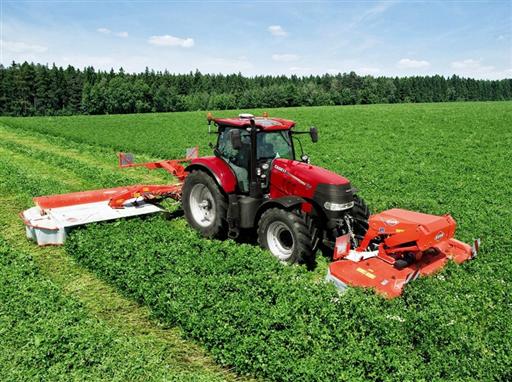 PUMA is well-established in terms of tractor quality and performance. Built in St. Valentin, Austria, around proven semi powershift, full powershift or CVX continuously variable transmissions and the latest FPT Industrial engine technology, the new PUMA models surpass even the high standards set by their predecessors. With seven models from 150-240hp rated power, the new PUMA is ready to master the most demanding tasks in arable, livestock and contracting operations.

Powerful, efficient and comfortable!
Powered by a 6.7-litre NEF engine which is manufactured by FPT Industrial, the top model (PUMA 240) delivers its rated power output of 240hp at 2200rpm, with up to 270hp being available when Power Boost is active. The engine produces a maximum torque of 1160Nm between 1400rpm and 1600rpm.
"One key feature of the new PUMA tractors is the equally powerful, efficient and 'clean' six-cylinder power unit. FPT Industrial's proven Hi-eSCR only technology ensures that European Stage IV (Tier 4 Final) emission regulations are met – whilst fuel consumption is low and performance is high. Simple and efficient, the system also enables Case IH to achieve engine oil change intervals of 600 hours," emphasises Dan Stuart, Case IH Product Marketing Manager Tractors for Europe, Middle East & Africa.
As well as the engine, Case IH also paid special attention to the cab – both inside and out. The cab now has a seamless single-piece front screen which provides an uninterrupted forward view for the operator. The AFS 700 terminal received several updates: they include new remote valve configuration and ISOBUS III functionality which – depending on the implement – will automatically control forward speed, hitch, electronic remote valve and PTO functions on the tractor. For shuttling operations, a new shuttling aggressiveness selectors and settings are available, thus allowing for settings according to individual preferences.
"The new HMC II Headland Management Control system also makes operators' life a lot easier whilst increasing productivity, with a new easy to use operator interface the system allows more parameters to be set from more triggers," says Mr. Stuart. "That further simplifies repetitive field operations and brings about greater efficiency with reduced driver fatigue.
"That is also true for the range of new seat options which now are available for PUMA tractors. With these options, operators benefit from the best ride in the industry. The PUMA tractor comes as standard with a low-frequency suspension seat. New options are available to upgrade to a premium Dual Motion low-frequency suspension seat with an innovative sliding high back rest in either fabric or red leather, or a leather Maximo Evolution seat with semi-active suspension," explains Mr Stuart.
Only light can drive out darkness...
Following Case IH Magnum™ tractors, the latest PUMA models have a new external look to the cab with a new roof and powerful lighting packages. Two new work-light packages will be available featuring the very latest LED technology and offering illumination that is not only brighter but reaches further too. "Operators will be able to securely identify and avoid field obstacles even with the furthest extremities of wide implements which can easily be seen on the darkest night," highlights Mr Stuart.
"As precision farming technology is a vital tool nowadays to increase efficiency whilst better protecting the environment, the Case IH PUMA tractors are available with the integrated Case IH AccuGuide automated guidance solution as part of the company's AFS technology platform. The system takes its correction information from the 372 antenna which is compatible with both GLONASS and GPS satellites. And, another important feature for uninterrupted operation: xFill technology improves the system's reliability by maintaining operation for up to 20 minutes even if the RTK signal is lost. Optional Case IH AFS Connect Telematics uses a combination of global positioning system and cellular technology to send and receive machine, agronomic and job-site information. In combination with our tractors, these technologies ensure that farmers can operate and manage their businesses more efficient than ever before," emphasises Mr Stuart.
New Case IH PUMA at a glance:
Seven models from 150-240hp rated power
6.7-litre NEF FPT Industrial engine
Top model PUMA 240 delivers rated power output of up to 270hp with Power Boost
Maximum torque of 1160Nm between 1400rpm and 1600rpm
Hi-eSCR only technology for Stage IV / Tier 4 Final emission regulations
AFS 700 terminal with several updates
Dual Motion low-frequency suspension high-back and Maximo Evolution semi active seats available as option
New work-light packages available
Available with the integrated Case IH AccuGuide automated guidance solution
New HMC II Headland Management Control system
Paris, 23.02.2015