New Marketing Manager announced by New Holland Agriculture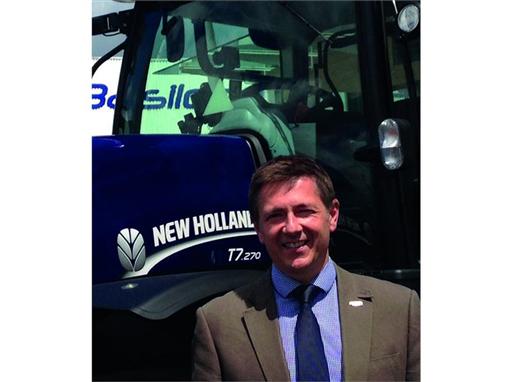 New Holland Agriculture has announced James Ashworth as UK and Ireland Marketing Manager
Rob Howles takes role as New Holland General Sales Manager
New Holland Agriculture has announced the appointment of James Ashworth as New Holland Marketing Manager UK and Ireland, following a successful three years as General Sales Manager for England and Wales.
In his new position, James will be responsible for overseeing the marketing and promotion of all New Holland products in the market. Additionally, James will take on the management of the New Holland sales administration team, with responsibility for ensuring factory production is able to fulfil sales targets and objectives.
James has almost twenty years of experience in the agricultural machinery industry, having started his career working for another major manufacturer and then working in a machinery dealer business before starting his own dealership. This experience has provided James with a thorough understanding of the marketplace and his previous role within the company brings with it existing relationships with New Holland dealers across the country.
Commenting on his new role, James said: "Having been in the industry for a number of years, the last three here at New Holland, I'm looking forward to putting plans in place to grow the business even further. In the past, I've been both a dealer and worked for manufacturers, this gives me a great understanding of the needs and the processes on both sides which will allow me to develop the marketing tools the dealers need to help them deliver business growth.
"I've developed a comprehensive understanding of the New Holland culture and that of the wider CNH Industrial business. Our emphasis on success via teamwork and efficient production means we are well placed to provide UK and Irish farmers with the products they need to drive their own businesses forward. I'm looking forward to supporting our network of dealers to ensure they have the tools they need to fulfil the changing needs and demands of the marketplace."
James's past role as General Sales Manager for England and Wales has been fulfilled by Rob Howles. Rob has a wealth of experience in the agricultural machinery field, having worked for New Holland in various roles for over 28 years.
Rob began his career at New Holland as an engineering apprentice and progressed through the business to become Global Product Marketing Manager followed by New Holland Fleet Manager in the commercial team. Rob gained further experience as the Commercial Manager for a competitor agricultural machinery manufacturer, and worked within the white goods sector before returning to New Holland.
Speaking of his new role as New Holland General Sales Manager, Rob said, "I am looking forward to this next step in my career with New Holland very much and following in James's footsteps by continuing to increase sales in the market."
10.06.2015

CONTACTS
Caterina Cattaneo

New Holland Agriculture Brand Communications manager

Italy

caterina.cattaneo@newholland.com

+39 0110 086 158