CASE wheel loader 721F supported Ski Flying World Cup in Austria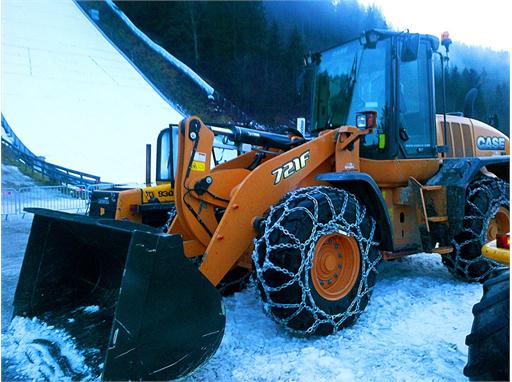 A Case machine has been helping out at one of Europe's major skiing events, the Ski Flying World Cup which recently took place from 10-12th January, at the Arena am Kulm, in Bad Mitterndorf, Austria. More than 60 top-athletes from all over the world met at the traditional nature-ski-flying-hill in the Steiermark region, to compete in this famous event.

To ensure perfect preparation of access roads and parking areas, a 15 tonne, Case 721F wheel loader supported the team of six Steyr tractors. The machine was provided by the Case dealer SDK Kjærsgaard from Denmark.
Markus Meyer, Business Director of CNH Industrial Construction for Germany, Austria and Switzerland said: "We have chosen the 721F due to its strong performance and ideal shovel-size to support our colleagues from Steyr agriculture in the preparations of the Ski Flying World Cup. In addition, our engagement enhances our growing strength in Austria. At the end of 2013 we opened a new Case store close to Vienna to substantially increase our business in this important market."
The Case wheel loader in Kulm was well prepared for its demanding tasks in the snow. With its 195 HP, strong hydraulics and a standard shovel of 2,7m3, the 721F is ideally suited to these challenging conditions, and the smooth control clearly shows its strength during the creation and marking out of large spaces.
The new heavy-duty axles and the automatic 100% differential lock at the front axle ensure optimal traction in wintery conditions.
​Berlin, 15 January 2014

CONTACTS
Emma Oddie

CASE Construction Equipment PR UK

United Kingdom

+44 (0) 20 7100 4460

+ 44 (0) 7508 872870
MORE FROM CASE CONSTRUCTION EQUIPMENT