Case IH helps customer to unleash 'Controlled Chaos'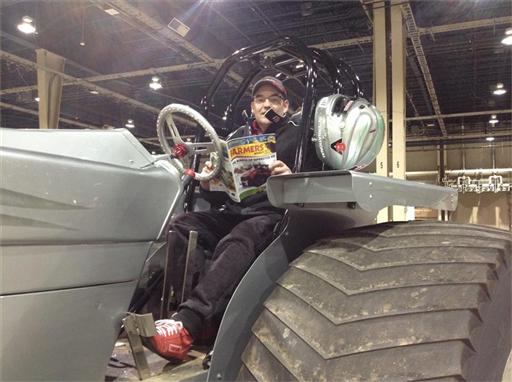 Case IH UK is helping one of its farmer customers to unleash 'Controlled Chaos' on the world of international tractor pulling this year through sponsorship of clothing and merchandise.

Having won a number of British and European Championships in the 3.5t Superstock category during the last seven years with 'Just Smoky', his 3800hp International 466-engined six-cylinder contender with Case IH Magnum 310 bodywork, David Jones wanted a new challenge. He found it in the form of the Unlimited Super Stocks category in the United States, where Case IH is the 'Official Farm Equipment Brand' of the National Tractor Pullers Association (NTPA) and provides tractors to maintain the tracks at most Grand National events.
"I've always had an ambition to run a V8-engined tractor and compete in the country where tractor pulling started," explains David, whose father and uncle helped to originate the sport in the UK during 1978. David now farms 1100ha in Warwickshire and 1200ha in Bedfordshire with the help of Case IH Quadtrac 530, 535, 600 and 620 tractors, plus a number of Case IH Puma CVX models.
Earlier this year David purchased 'Controlled Chaos', which won the 2012 U.S. Grand National Super Stocks title, from Kevin Campbell, its Pennsylvania-based builder. Featuring the bonnet from a Case IH 1066 tractor, together with other Case IH components, this monster is powered by a V8 Cummins 903 engine, with four turbochargers that generate 100psi of boost. Spinning at up to 8300rpm, the engine produces 5000hp, an output which is in-line with top-fuel dragsters, the power being transmitted to the ground through 30.5"-wide tyres. The tractor rockets off the line with its wheels turning at 90mph and covers the 300' course in around eight seconds, consuming six gallons of methanol in the process.
"Since buying 'Controlled Chaos' I've been working closely with Kevin to make some changes to the engine and weight distribution. That should make it even more competitive," says David, who will be working around his farming commitments in the UK between June and September to compete in nine events in the U.S. Grand National Series.
Basildon 30th June 2014

CONTACTS
Cecilia Rathje

Case IH and Steyr Public Relations Officer EMEA

Austria

cecilia.rathje@cnhind.com

+43 7435 500 634