Promoted after-sales manager for UK and Republic of Ireland focuses on continuing to strengthen offering to buyers and dealers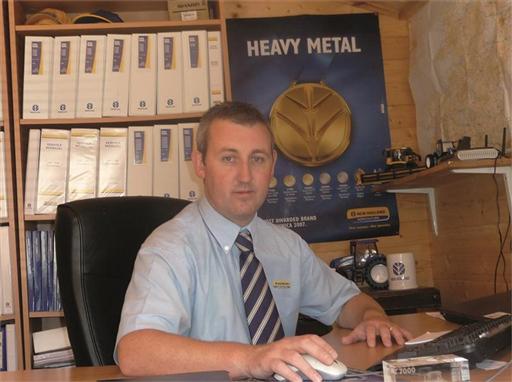 James Carroll has stepped up to his new role of After Sales Country Manager UK and ROI determined to continue strengthening New Holland's offering to dealers and buyers.

He has been promoted from his old position as sales area manager in the Republic of Ireland and brings 16 years' experience and understanding of the brand.
James (39) joined New Holland in 1997 and one of his key achievements was to help instigate the New Holland apprenticeship scheme at Reaseheath College.
Now he is putting to good use his extensive knowledge of the dealer network at ground level to build further on New Holland's after sales products and quality.
He said: "My main objective is to promote the after sales business in the networks as a strong product for the dealers and to enhance profitability. It covers everything under the after sales umbrella.
"I've been on the ground doing the role that I am now managing. I have had that experience in Ireland and it's that knowledge of the networks that I am able to bring to my new position."
James will be based at the Basildon tractor plant and will report to New Holland business director Andrew Watson.
Andrew Watson said: "James's promotion is well deserved and he brings a deep knowledge of the business – from the farm gate to the factory – to his work.
"This know-how will help us strengthen further our market-leading delivery of satisfaction for customers and dealers."
​5 August 2013

CONTACTS
Caterina Cattaneo

New Holland Agriculture Brand Communications manager

Italy

caterina.cattaneo@newholland.com

+39 0110 086 158
MORE FROM NEW HOLLAND AGRICULTURE