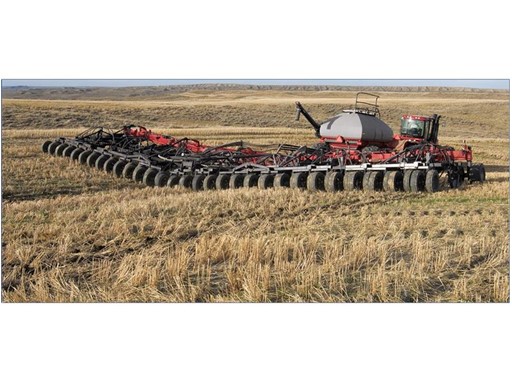 Case IH Flex Hoe Series air hoe drills offer the size, configuration and precision you need.
Seeding Style Options for Any Application
Case IH Flex Hoe Series air hoe drills are engineered to deliver precision seeding under a wide variety of seeding styles and field conditions. Click "See More" to learn how the Flex Hoe Air Drill can be configured to match the seeding style best suited for your operation.
Match the Right Opener to Your Conditions
Higher yields can be gained when you match the right opener to your conditions to achieve accurate seed and fertilizer placement. Case IH offers two openers -- Stealth® and Nok-on™that deliver successful seeding in your conditions.
Wide Range of On-Row Packing Choices
To improve germination, Case IH offers a wide range of on-row packing choices to match your seeding style, opener and soil conditions. You can choose from steel, pneumatic or semi-pneumatic packing wheels--each geared to fit specific conditions.
Two Shank Styles and Two Trip Options
Match shank and trip styles to your operation so you protect valuable openers, get maximum clearance for tripping over obstacles and effective penetration for consistent depth. Choose from two shank styles and two trip options to create the air drill that's right for your operation.
Current Models:
Flex Hoe™ 400: The Flex Hoe 400 is available in five base sizes, ranging from 27 to 51 ft (8.2 to 15.5 m). Its flexible frame follows field contours to maintain the seeding depth you choose.
Flex Hoe™ 700: The Flex Hoe 700 is available in either a 60 ft (18.3 m) or 70 ft (21.3 m) width with shank spacing ranging from 7.2 in to 12 in (18.3 cm to 30.5 cm).
CONTACTS
Sy Stevens

Case IH Brand Marketing Communications Manager

United States

262 636 0850