New Holland Agriculture Achieves World Record Title for Most Soybeans Harvested within Eight Hours with the CR8.90 Series Combine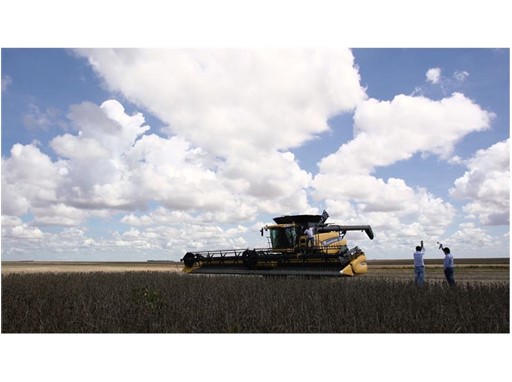 Soybean harvesting world record: 16,157 bushels in 8 hours with CR8.90
CR Series – a record-breaking most productive combine range
New Holland Agriculture has set a new World Record by harvesting an impressive 16,157 bushels of soybeans in eight hours with the CR8.90 combine. The record-breaking performance, which took place in the Bahia State of Brazil, was certified by independent adjudicator RankBrasil.
"Setting the world record for harvesting 16,157 bushels of soybeans is an achievement we're very proud of and it demonstrates the power and productivity of the CR8.90", stated Dan Valen, Director of Product Marketing North America. "Similar to the CR10.90 smashing the World Record for wheat harvesting in 2014, the CR8.90 delivered an exceptional performance in setting this record. Both of these accomplishments reinforce the New Holland CR Series and Twin Rotor™ technology as bestin- class, worldwide."
Record-breaking performance
The record was set on April 5, 2017 at the Villa Panambi farm, belonging to the Mingori Brothers, in the Bahia State of Brazil, with the support of their dealer Jaraguá Bahia, based in nearby Luiz Eduardo Magalhães City.
On record setting day, moisture was high due to ¾ inch rain at 5:00 am, and temperature ranged from 77 to 82.4 degrees Fahrenheit. Harvesting started at 10:30 am and finished at 5:30 pm, having harvested approximately 222 acres (90 hectares). CR8.90's average throughput was 2,020 bushels/hour in a crop yielding an average of 72.6 bushels/acre, and 17% average moisture content. The record-setting performance and efficiency was achieved by harvesting 73.5 bu of soybean per gallon of fuel and entirely overseen and verified by an official adjudicator from independent organization RankBrasil, which certified the record.
CR Series – a record-breaking combine range
The CR8.90 follows on the footsteps of the range topping CR10.90, which proved it is the world's highest capacity combine when it captured the World Record for harvesting an impressive 29,321 bushels of wheat in eight hours in 2014 – a title it holds to this day.
CR combines are able to achieve such outstanding performances thanks to New Holland's innovative Twin Rotor™ technology which offers best-in-class productivity , efficiency and grain quality; IntelliSteer® auto guidance, which enables operators to harvest around the clock; Twin Pitch Plus rotor technology that can improve capacity in high moisture conditions by up to 10% and the optional Dynamic Feed Roll™ with integrated dynamic stone protection, which improves the CR's already impressive capacity by up to 10% as well as enhancing crop flow into the rotors and reducing grain crackage. Watch the record-breaking accomplishment here:
https://youtu.be/hE3f86nDhc0
​
Key record statistics
| | |
| --- | --- |
| Total time harvested | 8 hours |
| Amount of soybean harvested | 16,157 bushels |
| Average bushels per hour | 2,020 bushels/hour |
| Area harvested | 222 acres (90 hectares) |
| Fuel efficiency - bushel soybean/gal | 73.5 bushels/gallon |
| Average moisture | 17% |
| Average yield | 72.6 bushel/acre |
New Holland, Pa. (April 26, 2017)
CONTACTS
Bethany Ciampa

PR & Content Team (New Holland)

United States

mediarequests@newholland.com

617-226-9950

617-226-9950