New Holland Cornrower™ Attachment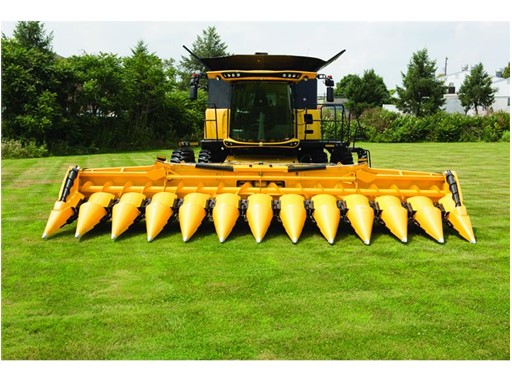 Uniform one-pass swathing of corn stover
Corn stover is growing in importance as an element in cattle feedstock and in the cellulosic ethanol industry. New Holland's Cornrower™ chopping corn head attachment provides options for corn stover harvest unavailable with other systems. The Cornrower, winner of an AE50 Award presented by the American Society of Agricultural and Biological Engineers, is an add-on attachment that fits on a New Holland combine's corn header with no modification of the header.
The integrated Cornrower system for New Holland corn headers funnels the processed cornstalks into a bank of knives which deliver a consistent chop of all stalks. It works by catching the stover under the stalk rolls, preventing stover from contacting the soil while chopping it into smaller pieces. This material is then directed into uniformly dense windrows for subsequent baling. Swaths are free from dirt and stones and also contain any lost kernels.
Labor to windrow the stover is eliminated since the Cornrower makes the windrow on the same pass as corn is harvested. In addition to enhancing stover quality, fuel use, labor costs and equipment capital requirements are all reduced compared to other systems of corn stover harvest which incorporate raking or using a chopping windrower. Compared to a single pass bale system, the Cornrower enables corn to be harvested at a higher moisture content, and allows the stover to dry on the ground for baling. The result: a quicker drying, cleaner, higher quality stover and up to 15% denser bales. The Cornrower allows the operator to regulate the number of rows taken into the windrow. This is important to be able to regulate the amount of residue left in the field. The system can also be deactivated when traditional spreading is desired.
NEW HOLLAND, Pa. (June 3, 2015)
CONTACTS
Bethany Ciampa

PR & Content Team (New Holland)

United States

mediarequests@newholland.com

617-226-9950

617-226-9950
MORE FROM NEW HOLLAND AGRICULTURE