Construction Equipment's Annual Report and Forecast Indicates Positive Outlook for 2017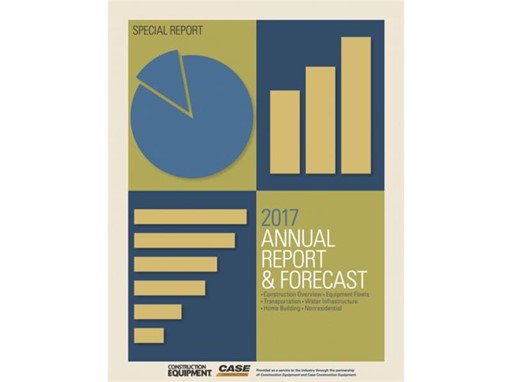 Construction Equipment has published their 2017 Annual Report & Forecast. Built on the survey responses of over 1,200 Scranton Gillette and SGC Horizon readers across multiple sectors of the construction industry, Construction Equipment has joined with Scranton Gillette and SGC Horizon sister publications Building Design+Construction, Professional Builder, Roads & Bridges and Water & Wastes Digest to present the report for nonresidential, home building, transportation and water infrastructure markets.
The report, which has been developed based on responses from readers in fleet management, transportation, water infrastructure, nonresidential and home building markets, is made available to the industry through a partnership with CASE Construction Equipment.
Published annually for over 25 years, the report is highly regarded across the industry and is the only subscriber-based survey that focuses on the entire construction industry. Broken down by individual markets, it delivers a detailed forecast of the coming year, and analyzes business expectations, volume revenue predictions, bid price and material price trends and more.
The 2017 Annual Report & Forecast is available in the January issue of Construction Equipment and online at http://www.constructionequipment.com/2017-annual-report-forecast.
CONTACTS
Jodi Marose

Marketing and Communications Manager Case Construction Equipment North America

United States

+1 262-636-0408
MORE FROM CASE CONSTRUCTION EQUIPMENT