Case IH Recognized as Innovator With Four 2018 AE50 Awards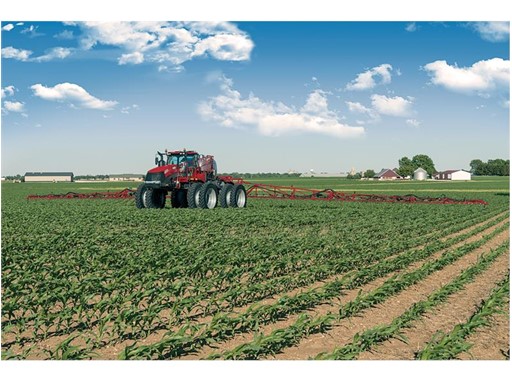 Trident™ 5550 liquid/dry combination applicator named top innovative product with Davidson Prize
Recently, the investment made by
Case IH
in research and development was recognized by the American Society of Agricultural and Biological Engineers (ASABE), which honored four of the company's latest innovations with 2018 AE50 awards:
Trident 5550 liquid/dry combination applicator
Steiger® series tractor with new CVXDrive™ continuously variable transmission
2140 Early Riser® planter with in-cab split-row lift system
Nutri-Placer® 930 fertilizer applicator with new High-speed Low Disturbance (HSLD) coulter
Today, the ASABE, along with the Association of Equipment Manufacturers (AEM), praised the Trident 5550 liquid/dry combination applicator as a top innovative product among the AE50 honorees. The organizations presented the inaugural Davidson Prize to the top three innovative products from the AE50 honorees, including the Trident 5550 liquid/dry combination applicator, at Commodity Classic in Anaheim, California.
"Ultimately, our goal at Case IH is to help customers be more productive and profitable, but it's a bonus to see our efforts and products honored," said Jim Walker, Case IH vice president, NAFTA. "Each of the products recognized by the AE50 awards were developed through our Customer Driven Product Design (CDPD) process and support High-Efficiency Farming. This process has helped deliver products to our customers that give them an edge and a leg up."
Read more about this year's Case IH AE50 award winners:
The Trident 5550 liquid/dry combination applicator is the industry's fastest-converting combination applicator on a row crop chassis. It's engineered from the ground up to be changed from liquid to dry and back again throughout three seasons of use. Quick changeover times, automatic and in-cab adjustments and precise application technology give you a flexible equipment solution to protect and feed your crops at the optimal time.
Case IH Steiger series tractors set industry records for fuel-efficient power and deliver a proven record of performance and productivity. The CVXDrive continuously variable transmission builds on that legacy by letting you take control of every season and every application. The CVXDrive is the first continuously variable transmission for an articulated 4WD tractor. It delivers the highest horsepower available on the market — up to 605 peak horsepower — so you can take on year-round farming applications.
The new 2140 Early Riser planter adds ultra-narrow row spacings of 15-, 20- and 22-inch with split-row configuration options so you can easily convert between crops. Our engineers designed this planter with excellent ground clearance for unmatched terrain flexibility and a pivot fold transport package so you can easily move from field to field and navigate tight field entrances.
Capable of speeds up to 11 mph, the Nutri-Placer 930 fertilizer applicator with the new High-speed Low Disturbance (HSLD) coulter lets you cover 510 acres in a 12-hour day — all with superior agronomic performance. In extensive field testing, the HSLD coulter provided better residue cover and a more level surface finish than other coulter-style applicators. Spring or fall, the Nutri-Placer 930 HSLD helps you make the most of every acre and every application.
To learn more, visit
caseih.com
or your local Case IH dealer.
RACINE, Wisconsin (February 27, 2018)
CONTACTS
Sy Stevens

Case IH Brand Marketing Communications Manager

United States

+1 262 636 0850

Marisa Riley

PR Team Leader

United States

+1 651 338 4593