Let Irma Harding Set the Table With New Case IH Dishware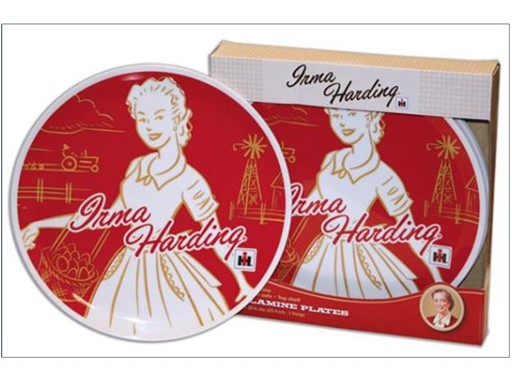 Just in time for the holidays, Irma Harding® is back in the kitchen with a new line of dishware. These "modern vintage" dishes are the perfect fit for any occasion, whether casual or more formal. Kitchens in the country and the city will find these "retro" place settings to be a welcome addition to their cupboards.
"We're excited to expand the Irma Harding product line to include these fantastic dishes," says Sarah Pickett, Case IH Licensing and Merchandising Manager. "Irma Harding is back and she's better than ever, and these dishes expand the Irma Harding product line in a way that's simple, yet classy."
The dishware includes dinner and salad plates, tumblers, bowls and placemats to complete the setting. All of the dishware is dishwasher safe. Two different styles are available: "Retro" or "Simple and Wholesome."
Both styles of the 10-inch melamine dinner plates come in a pack of four, as do the matching 8-inch salad plates and 8-inch bowls. Each plate and bowl are adorned with the "Modern Vintage" Irma Harding. The 16-ounce tumblers also come in a four-pack and also sport the "Modern Vintage" Irma Harding.
The "Simple and Wholesome" style dishes have clean lines and an "IH" wheat pattern.
Vintage, modern -style placemats go well with either style of Irma Harding dishware and are sold individually.
Irma Harding dishware is available at
www.ShopCaseIH.com
​​. For more information on Irma Harding, visit irmaharding.tumblr.com.
In 1947, International Harvester developed refrigerator and freezer lines and created Irma Harding as the character spokeswoman. Irma promoted the products to U.S. farm women. International Harvester hired five home economists to answer inquiries and conduct cooking and testing experiments in company kitchens on Irma's behalf. In addition, 70 home economists and saleswomen were hired throughout the U.S. to travel regionally and educate homemakers of the day about freezing and preserving food.
With a persona that is deeply rooted in America's rural history, the products Irma now represents invoke memories of all that was and still is good in American households and homemaking.
RACINE, Wis. (November 4, 2013)
CONTACTS
Sy Stevens

Case IH Brand Marketing Communications Manager

United States

262 636 0850