New Holland Rustler™ Utility Vehicle to Aid New Holland Police Department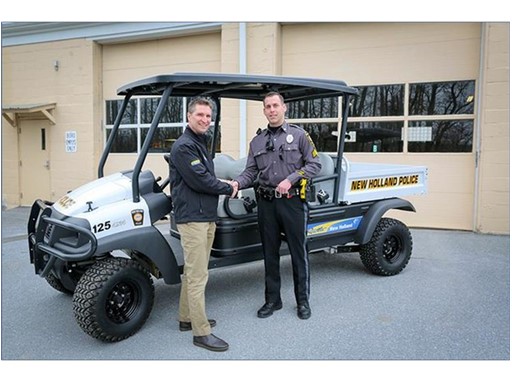 The New Holland Police Department has faced challenges in the past navigating through narrow paths in its jurisdiction that are not always accessible with traditional police vehicles. New Holland Agriculture was able to provide a solution and support the local police force. Today, New Holland Agriculture presented the New Holland Police Department with a New Holland Rustler™ utility vehicle that has been custom-painted to match the paint scheme of the current New Holland Police vehicles.
Bret Lieberman, Vice President of New Holland North America, presented the Rustler utility vehicle to representatives New Holland Police Chief, Donald Bowers, EMS Chief of the New Holland Ambulance, and Rick Miller, President of New Holland Ambulance Association.
"We have a lot of ideas on how we can use the Rustler." said New Holland Police Chief Donald Bowers. "In a search, especially in an off-road capacity, this will give us the capability we need. We appreciate New Holland's support."
"New Holland grew from a small local machine company to a worldwide brand right here in New Holland, Pennsylvania," said Lieberman. "The New Holland Police Department has consistently and tirelessly protected our community and New Holland Agriculture is proud to have the opportunity to return the favor and assist them with the Rustler donation."
In 2015, New Holland Agriculture also donated a Rustler to the New Holland Ambulance Association. The New Holland Ambulance Association serves the communities in New Holland, Pa., which is a rural area that sometimes proves too difficult to navigate by ambulance. Adding the Rustler to their emergency responses proved to be of great value to traverse those hard-to-reach areas and transport residents.
(February 8, 2016)
CONTACTS
Bethany Ciampa

PR & Content Team (New Holland)

United States

mediarequests@newholland.com

617-226-9950

617-226-9950
MORE FROM NEW HOLLAND AGRICULTURE